Free Shipping on Orders over $75
Athletic Ambassadors
Hunter Jones
Born and raised in Los Angeles, Hunter honed his craft at El Porto in Manhattan Beach. Growing up skateboarding, Hunter caught his first wave at age 10 and knew he had found his calling. Since then, Hunter has been a local fixture at El Porto – where, as any local knows, the waves are less reliable than other breaks, so, they require a certain level of persistence and determination. A prepared and confident surfer, Hunter can take an average to below average El Porto wave and look like he's riding Rincon, Lowers or another classic Southern California break. So, when he does make a guest appearance on a high-octane wave at Lowers, he knows what to do with it and he proves that perseverance pays off. The tenacity to get in the water every day, regardless of conditions, has prepared Hunter to excel on any type of wave. In addition to his standing as an accomplished surfer, Hunter is also a talented filmmaker and vocal environmentalist. Weaving together his love of surfing, his passion for the ocean and his gift for storytelling, Hunter is a dynamic and enthralling surfer who is just beginning to maximize his talents both in and out of the water.
Zane Kekoa Schweitzer
Since the beginning of his career, Zane has proved to be a passionate competitor in and out of the water. Renowned as a top tier surfer, standup paddleboarder, foiler and windsurfer, Zane embodies the drive and innovation of a true waterman. In support of his passion for the water, Zane is also a notable global advocate for the environment and the next generation of eco-stewards. When he is not mastering his craft, you can find Zane empowering the younger generation to "Innovate & Inspire" through his motivational speaker series and his 501(c)(3) Kahākūkahi Ocean Academy, which aims to introduce keiki to ocean guardianship through sport and mentorship. Zane is also a published author of an inspirational collection of personal stories entitled "Beneath the Surface". Zane strongly believes in maintaining a healthy and active lifestyle, living every day to its absolute fullest potential.
Theo Brunner
Theodore Brunner grew up in Ridgefield, Connecticut as the third of four children. As the son of an avid local volleyball player, Theo cut his teeth playing against adults in the small but tight-knit Connecticut volleyball community. He attended college at UC Santa Barbara to play indoor volleyball where he went from being a walk on in 2003 to team captain and first team All-American in 2007. Theo spent four years playing in the Greek and Italian A1 professional leagues before switching to beach volleyball in 2013. Over the course of his 9 years on his beach, Theo has won 4 AVP tournaments and finished in the top 5 33 times. On the International tour, Theo has medaled 8 different times and finished in the top 4 in the 2015 and 2022 World Championships. He is currently ranked in the top ten internationally and aspires to play in his first Olympics in 2024. Theo is married and the father of two daughters Isidora and Nephelie.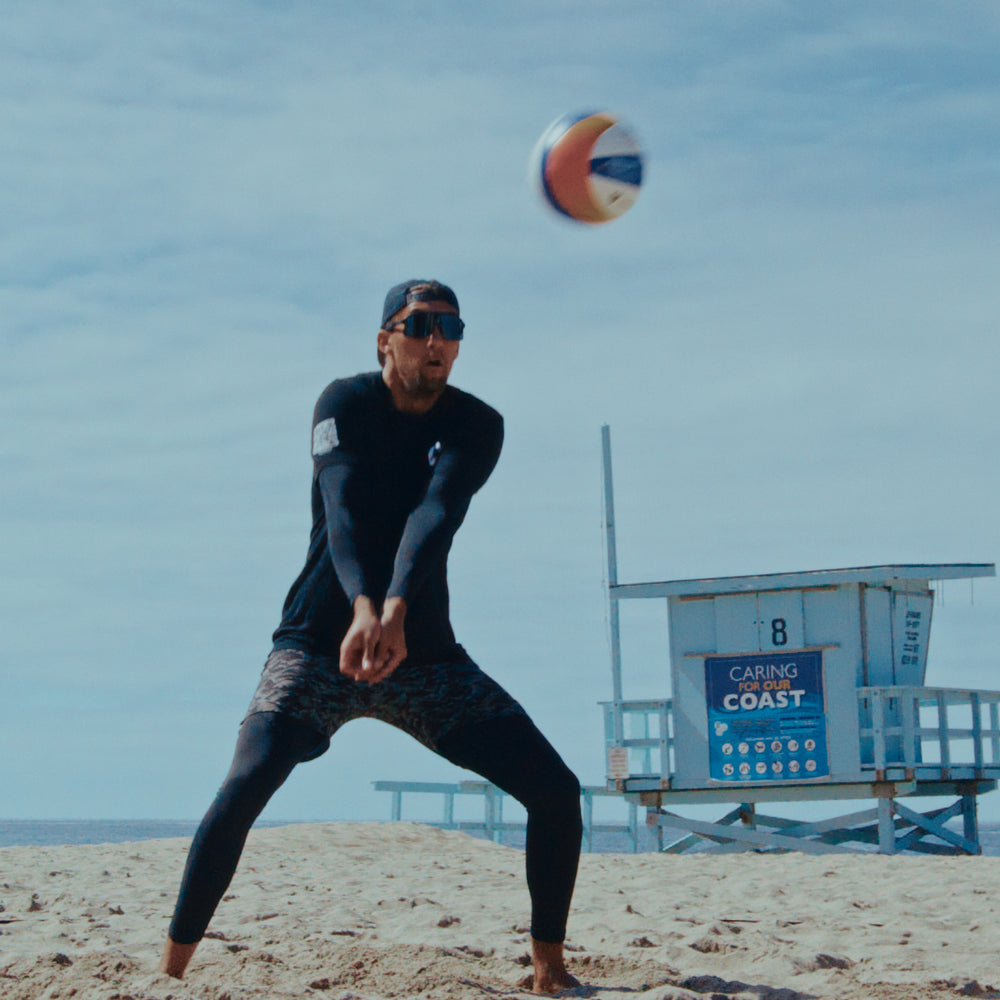 Trevor Crabb
Born and raised in Honolulu, Hawaii, Trevor Crabb comes from a family of dynamic athletes – including multiple collegiate and Olympic level coaches and players. Introduced to volleyball by his dad as soon as he could walk, Trevor is one of the most captivating and entertaining players on the sand. Many spectators, including us at Team LAIRD appreciate not only his determination and passion on the court, but also his commitment and drive off the court. An early example of this gritty determination was shown when Trevor switched from basketball to volleyball at the collegiate level. Since deciding to pursue volleyball at Long Beach State, Trevor has risen to the top of the game through pure hard work and laser focus. After playing indoor volleyball at Long Beach State for three seasons, Trevor moved to beach volleyball in 2013 leading him to earn AVP's Rookie of the Year Award in 2014. In the following 9 seasons, Trevor has amassed a plethora of awards and accolades. Entering the 2023 AVP season, Trevor is one of only two players who have reached the semifinals in each of the last nine years. This year, Trevor has his focus set on earning a spot in the 2024 Paris Olympics.
Chaim Schalk
Chaim Schalk grew up in Red Deer, Canada. He has 4 highly competitive brothers who taught him how to fight and work hard for everything (including food at the dinner table). Chaim's father built him and his brothers a beach volleyball court in their backyard, which he believes to be one of the biggest factors in him making a career of the sport. In 2009, Chaim made the Canadian Beach National Team and has competed on the FIVB World Tour since 2010. Over a period of 5 years, Chaim captured 5 FIVB medals, a 9th place at the 2016 Summer Olympics in Rio, and accumulated over 30 top 10 finishes on the FIVB World Tour. Chaim has established himself as a top player on the AVP tour and is now representing Team USA internationally.
Want to Join The LAIRD Community?
Email us at hello@lairdapparel.com